Barisa
This casual new rooftop bar takes over the top floor of The Commons, a hip development of food kiosks and shops in one of Bangkok's trendiest districts. Bean bags strewn across the lawn, string lights and a lengthy bar table all contribute to a friendly communal vibe. Tapas-portioned dishes with Middle-Eastern and South-American influences draw a young, cosmopolitan crowd, as do cocktails like the tequila old fashioned with smoked cinnamon and spiced Grenadine.
3/F, The Commons, Thonglor Soi 17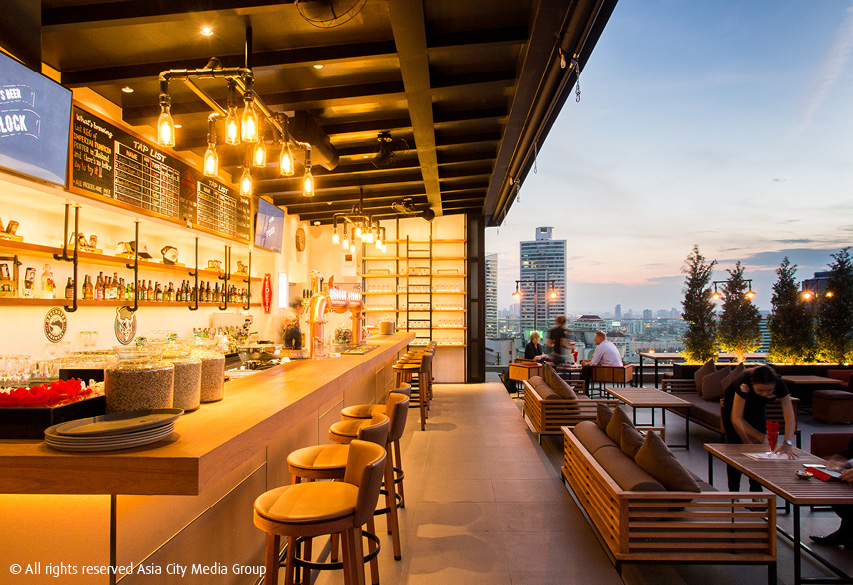 Brewski
The city's newest beer bar offers 30th-floor views of Sukhumvit. Along with a free and easy party atmosphere, Brewski offers an international selection of beers in three glass sizes'Äî100ml for tasting, 250ml for half pint, and 470ml for full pint'Äîwith choices ranging from American craft beers to Belgian classics. There's also a decent selection of ciders (try the Zeffer Crisp Green Apple Cider from New Zealand) and Thai-style bar munchies like sai krok Isaan (Thai-style pork sausages with fresh chilli, ginger and peanuts).
30/F, Radisson Blu Plaza, 486 Sukhumvit Soi 27, 02-302-3333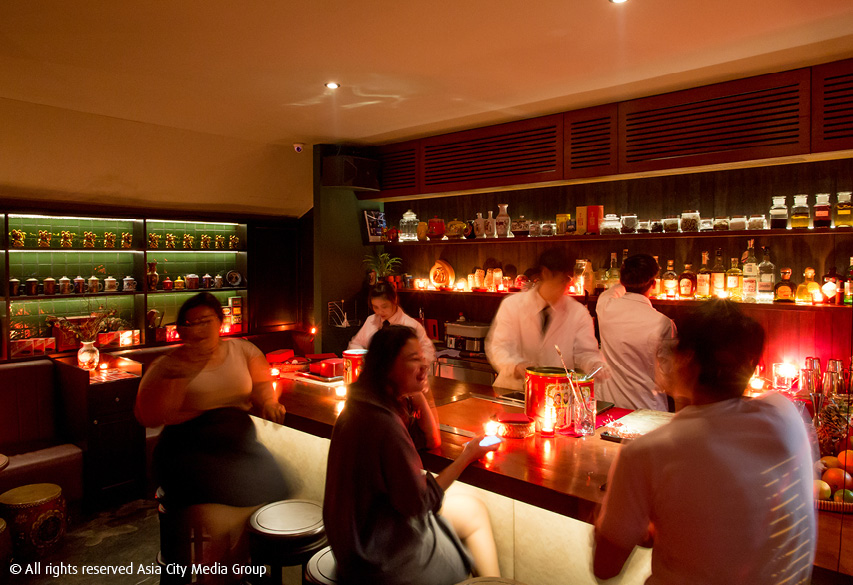 Dim Dim
This candlelit, Chinese-themed cocktail bar exudes oriental cool through vintage tea boxes and rows of waving lucky cats. Bartenders whip drinks with Chinese twists like the Oolong Tea & Orange Sour, a twist on the whiskey sour made with oolong tea and orange peel-infused Wild Turkey 81 bourbon. Just as exciting is the house-infused chrysanthemum vodka—try it in a shot or a cocktail like the Chrysanthemum Vanilla Fizz (with vanilla syrup, lemon, egg white and soda, garnished with chrysanthemum, lemon and orange). Hungry? There are crispy Chinese pork platters and Hong Kong-style congee.
27/1 Sukhumvit Soi 33, 02-085-2788
Orihara Shoten
With its wall-to-wall sake selection, cozy blond wood decor and decorative barrels, Orihara Shoten looks like something straight out of Japan. This sake-specializing bar is a collaboration between Japanese sake exporters Orihara and local booze distributors BB&B, so you can rest assured this is the good stuff. The 100-plus-bottle selection of both chilled and hot sake starts from as little as B180 per glass. Bar snacks like Japanese-style potato salad and salmon jerky are on offer, or you can seek more sustenance at the adjoining Tori Tama, a Tokyo-hailing yakitori restaurant run by the same people.
18 Park Lane, Sukhumvit Soi 63, 02-382-0131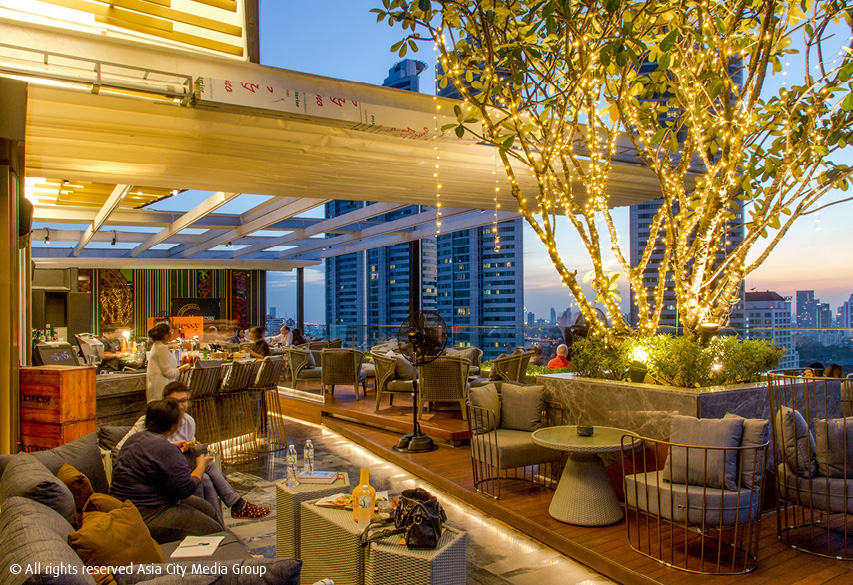 Sky on 20
Sukhumvit's latest rooftop bar sits pretty on the 26th floor of the new Novotel hotel, offering laidback garden vibes and views of both Sirikit Lake and Benjasiri Park. You can forget sky-high prices, thankfully, with cocktails starting from a very friendly B250. These fruity, though not-too-sweet, concoctions come courtesy of Portuguese bar manager Joao Dos Santos, who previously worked as head bartender at the Eastern Mangroves Hotel and Spa by Anantara in Abu Dhabi. Beyond cocktails, there's also a solid selection of whiskey, beer and wine, with food spanning snacks like spicy Spanish chorizo with squid and parma ham pizza.
26/F, Novotel Bangkok Hotel, 19/9 Sukhumvit Soi 20, 02-009-4999
Source: 5 hot new bars in Bangkok to check out right now | BK Magazine Online