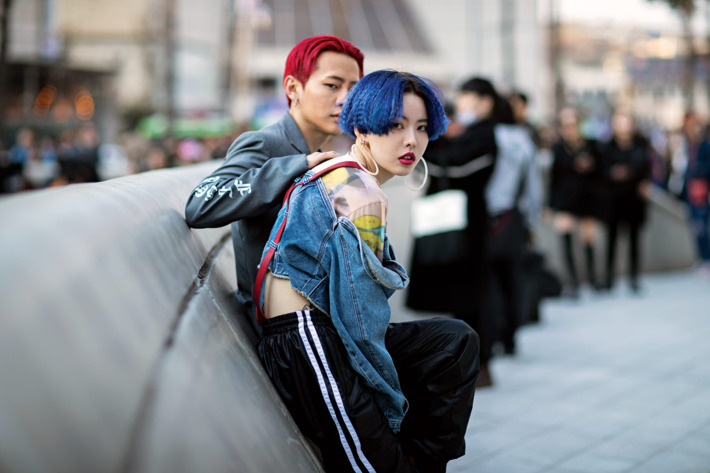 Even as Kim Jong-un and Donald Trump continue playing their high-stakes game of chicken, K-pop, K-beauty, and other pillars of contemporary South Korean culture have spread like wildfire across the globe. The phenomenon is called the Korean Wave, or hallyu, and it's the result of the country's fast-moving, trend-obsessed, hyperconsumerist culture. The engine driving the movement is Seoul, a city of roughly 10 million and a collision of old and new, permanent and fleeting. This is a place where ancient shrines meet eye-popping street art, centuries-old hanok villages coexist with soaring architectural gems, and a basket of kimchee fries is Instagrammed with as much enthusiasm as delicately plated temple fare. Seoul is one of the world's most wired cities, with one of the world's best airports (it has a skating rink!) and 24-hour access to just about everything (spas, study rooms, gimbap). As with all shiny surfaces, a few troubles lurk beneath. South Korea's former president Park Geun-hye refused to appear at her own corruption trial in November, the country still lags behind on issues like gay rights and gender equality, and just 121 miles to the north, Kim Jong-un keeps dreaming of intercontinental ballistic missiles. (For what it's worth, the regime's latest statement indicates that the DPRK does not want to bomb South Korea — just the United States.) But seemingly nothing can stop Seoul, which continues to metabolize the new more creatively than almost any other capital city. Security analysts maintain that the capital remains one of the world's safest large metropolises — which is good news for the thousands of athletes and tourists flooding through Seoul en route to Pyeongchang for the 2018 Winter Olympics. Its residents are keenly aware of the threats out there, but not slowed down by them.
1. Concept-Shop Hop
From the city's many specialty boutiques, fashion consultant Inhae Yeo picks four new ones worth perusing.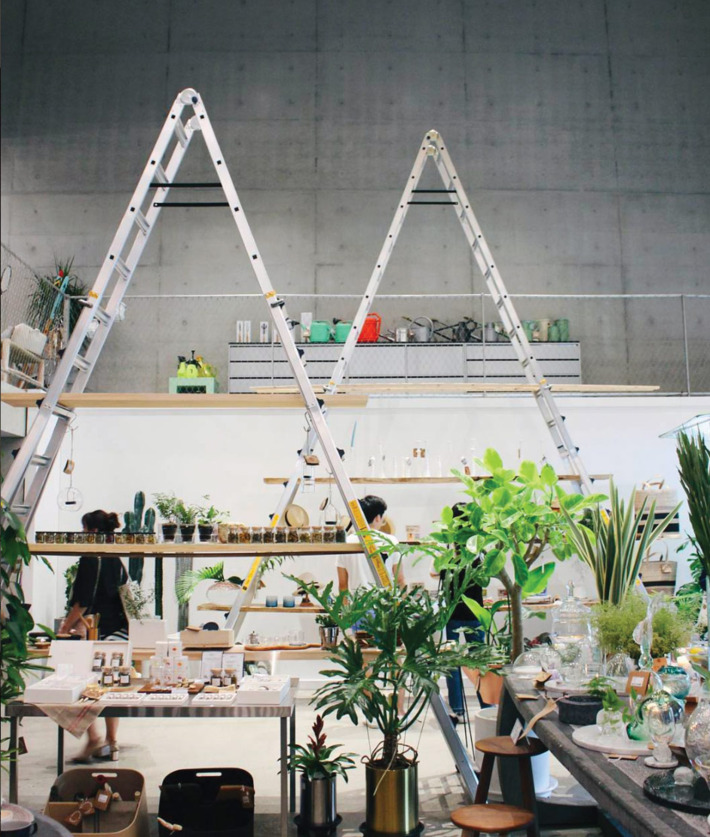 For accessories: Eenk Kartridge, 142, Sinheung-ro Designer Lee Hye-mee opened Eenk Kartridge (a play on "ink") to showcase her Letter Project, wherein she creates one piece for each letter of the alphabet. "B is for beanie, C for clutch, F is for fedora, and the list goes on," Yeo says. Eenk's signature piece: a flip-up rectangular gold-handled iPhone case ("I").
For plants: Queenmama Market, 50, Apgujeong-ro 46-gil "This warehouse-size store specializes in shoppable greenery — think endless cacti and Korean pine trees — and uses it to display home goods, making even gardening spades and dish soap look like works of art."
For sneakers: New Boon, 21, Apgujeong-ro 60-gil "Boon the Shop got a new name and a renovation this year, reopening its ground floor as a temple to music, perfume, and streetwear. Casestudy, a sneaker bar inside the store, will carry up-and-coming labels like Kanghyuk, a designer working with recycled airbag material."
For womenswear: La Fête at the Mansion, 7, Itaewon-ro 45-gil "The sisters who run this are florists and beloved among the fashion crowd in Korea," Yeo says. In their new space in the Mansion, a modern marketplace, the sisters carry limited-edition in-house pieces like straw hats and ruffled shirts with exaggerated sleeves.
2. Snap Your Selcas Here
In Seoul, a selfie is a "selca" ("self" and "camera"). Local couple Sarah Kate Watson-Baik, K-Style TV host, and architect Jiwon Baik plot the ultimate selca map.
1. Ewha Campus Complexat Ewha Womans University 52, Ewhayeodae-gil "Designed by Dominique Perrault Architecture, the submerged ECC building is an impressive modern gash in the green landscape. If you want to feel the architectural equivalent of Moses's parted waters, this is it."
2. Seochon Village Cheongunhyoja-dong "See life as it looked 100 years ago and capture the true essence of Korea along this maze of small streets lined with traditional shops and cafés, just west of Gyeongbokgung Palace."
3. Korea Furniture Museum 121, Daesagwan-ro "An exquisite collection of Korean furniture housed in ten hanoks that's accessible by reservation only."
4. Jongmyo Shrine 157, Jong-ro "A Confucian shrine and UNESCO World Heritage site, this is a very long, traditional building perfect for fish-eye lenses. Don't miss the angle of never-ending red archways."
5. Ihwa Mural Village Ihwajang 1-gil nr. Naksan Park "Perched along the Seoul city wall is a quaint artist village with lots of outdoor murals. Many are intended to be posed in front of, but the neighborhood is beautiful on its own."
6. Dongdaemun Design Plaza 281, Eulji-ro "Designed by Zaha Hadid, the DDP is best known for being the backdrop to street-style photos shot during Seoul Fashion Weeks in March and October."
7. Lilliput 85, Dokseodang-ro "As new parents, we love Seoul's 'kid cafés.' Lilliput is a super-cute, Insta-friendly mini-wonderland of luxury pretend zones, with climbing nets, a Hinoki-wood-pellet play pit, an inflatable bouncing area, and a white ball pool. Helpers guide the kids if parents want to eat and have a coffee or beer."
3. Party in a Grain Warehouse
A night out in Seoul need not sentence you to listening to factory-engineered K-pop. Mark James Russell, founder of the Korea Gig Guide and author of Pop Goes Korea: Behind the Revolution in Movies, Music and Internet Culture, recommends heading to the Sangsu neighborhood, located between the craziness of Hongdae and the Han River. "It's a mellower area full of cafés, restaurants, and live venues like Jebi Dabang (24, Wausan-ro), a funky space run by artists and architects that hosts indie-rock concerts on weekends. Then there's Mudaeruk (12, Tojeong-ro 5-gil), a converted grain warehouse, which has great food, a gallery space, and a downstairs room where a DJ might play '70s Korean pop songs." The best vinyl bar in Seoul, he says, is Gopchang Jeongol (8, Wausan-ro 29-gil). And, he adds, "in the run-down neighborhood of Euljiro 3-ga, you'll find a hidden hipster bar called Seendosi (31, Eulji-ro 11-gil), which gets a lot of weird music — lo-fi and avant-garde stuff — from all over Asia."
4. Fancy an Hermès-Themed Facial?
Here's where Seoul's beauty bigwigs shop, shvitz, and moisturize.
Joan Kim, beauty and lifestyle vlogger
Shop pick: "The beauty shops here must be themed in order to be memorable. I recommend Stylenanda Pink Hotel (37-8, Myeongdong 8-gil), where everything is pink."
Spa pick: "I have acne-prone skin, so I go to N. Olive Esthetic (442 Times Square) for a resurfacing Troipeel to help fade my scars."
Chriselle Lim, fashion stylist and beauty blogger
Shop pick: "I was drawn into the skin-care store Lyanature (94, Samcheong-ro) by its airy architecture. Then I discovered that it's a 100 percent botanical brand. Their Snow Klenzer with camellia-seed oil is amazing."
Spa pick: "I love the Shangpree Spa (32, Dosan-daero 51-gil). Their green-tea facial, the Modeling Mask, leaves your skin smooth as a baby's butt."
Sarah Lee and Christine Chang, co-founders of Glow Recipe
Clinic pick: "ID Hospital (142, Dosan-daero) is known for their Hermès-themed glow facial, which results in brighter, more even-toned skin."
Spa pick: "Spa Lei (5, Gangnam-daero 107-gil) is an intimate women-only spa that offers full-body enzyme baths. We also like the sauna at Hotel Prima Seoul (536, Dosan-daero). It's never crowded, but keep in mind that it's fully nude."
5. Choose Your Own Eating Adventure
Joe McPherson, founder of the popular ZenKimchi Food & Tours app, walks us through four classic Korean meals and their modern counterparts.
Gopchang
"It loosely translates to 'cow intestines' and is best cooked on a pan at your table with chives, potatoes, and onions."
Old-School Version: Janganae Gopchang, 290, Tojeong-ro "Run by the Soup Nazi of gopchang. There's always a line outside this place. The grilled gopchang is crispy, chewy, and tastes like bacon."
New World Order: Gopchang Jogeon, 20, Hongik-ro 3-gil "The spicy gopchang stir-fry comes with loads of mozzarella."
Budae Jjigae
"It's a seriously addictive stew of Spam, hot dogs, kimchee, and canned baked beans."
Old-School Version: Bada Sikdang, 18, Itaewon-ro 49-gil "This 1960s take on budae jjigae, called 'Johnsontang' (a nod to LBJ), goes upscale by including homemade sausages. It also follows the rule of thumb that the surlier the service, the better the food."
New World Order: Simseuntang, 16, Hongik-ro 5an-gil "They supply pats of butter, soy sauce, and garlic with garlic crushers to mix in your rice. It's a concoction that lets peasants eat like kings."
Temple Cuisine
"Buddhist-temple cuisine takes veganism to the extreme. More than a type of food, it's a philosophy."
Old-School Version: Balwoo Gongyang, 5F Temple Stay building, 56, Ujeongguk-ro "Unlike other temple-food restaurants in the Insa-dong area, this one strictly follows the tenets of temple cuisine. Even carnivores crave the fried mushrooms that taste like sesame chicken."
New World Order: Chaegundaam, 23, Yeoksam-ro 98-gil "The interior evokes peaceful dreams of a meditating artist, and the modernist presentation is very delicate (think canapés and squeeze-bottle sauces)."
Baekban
"Baekban is like saying, 'Hey, Mom, what's for dinner?' and the cook says, 'Whatever I feel like.' "
Old-School Version: Cheongdamgol, 48, Seolleung-ro 148-gil "Literally fast food: The table is covered in a Tetris configuration of plates within five minutes. You'll get rice, soup, fish, and kimchee — but that's the only predictable factor."
New World Order: Mishmash, 21, Itaewon-ro 55 ga-gil "Soy-brined fried pickles. Galbi raviolo. Korean fried-chicken lollipops. Sous-vide galbi jjim. Someone's having fun in the kitchen!"
6. About That Neighbor to the North …
North Korea is now a nuclear state, and despite each of our dear leaders' boasts about button size, the freeze on peace talks may be thawing — at least between Kim Jong-un and South Korean president Moon Jae-in. (Trump is sitting this one out.) That North Korea is sending a delegation of athletes to the 2018 Winter Olympics came as a surprise after it rebuffed Moon Jae-in's offer to jointly host the games; some analysts see it as a sign of progress, others a play to loosen its ever-tightening economic sanctions. Lest we forget, less than six months ago, Kim Jong-un vowed to turn Seoul into a "sea of fire" and "a pile of ashes." For anyone traveling to South Korea, this alarming shift in tone raises three very legitimate questions.
Is Seoul safe?
"Since the late '60s, the North Korea military has deployed heavy-artillery pieces on its side of the DMZ [demilitarized zone]. If these guns are allowed to shell Seoul for a couple of hours, the results will be roughly similar to the use of tactical nuclear weapons. The arrival of nuclear weapons has changed the risk calculus of walking Seoul's streets very little. Many here do not see North Koreans and their government as it is presented in the overseas media, as a bunch of irrational, comical, unpredictable people. Most of their bellicosity has always been a kind of political show, an exercise in theater to effect political and economic ends. We believe that the North Korean government is run by a group of brutal, smart, cynical, and un-ideological Machiavellian people. Their goal is survival, not to start a war." —Andrei Lankov, director of the Korea Risk Group
Is it safe to visit the DMZ?
"The risk of visiting the DMZ/JSA [Joint Security Area] remains the same. There have been many national security crises on the Korean peninsula since the armistice agreement signed on July 27, 1953. We cannot operate tours under circumstances of armed provocation, like when a North Korean torpedo sank the Cheonan warship in 2010. When North Korea's cannons are facing to the South, tours will be canceled. Otherwise they're up and running normally. North Korean defectors are crucial to our tours; they explain what North Korean society is like on the inside, and tourists have the opportunity to ask them questions." —Kim Bong Ki, CEO of Panmunjom Travel Center, which arranges tours to the DMZ
Is it ethical to visit the DMZ?
"Some argue that tours profit off war. But I think it's educational for people to know what it's like to be at the world's last Cold War confrontation site and see how war creates so many casualties and tragedies. South Korean citizens are usually not allowed to join the DMZ tourism; if they were, there would be way too many people there, and it could cause security issues. But having a constant flow of international tourists has the psychological effect of exposing the North Korean regime's brutality and propaganda to the outside world. They will also think twice before executing any provocations." —Lee Seong-hyon, research fellow at private security think tank Sejong Institute
7. Where the Locals Would Stay If They Weren't Locals
---
$$ Goi Guesthouse ($197; goiseoul.kr) "A traditional Korean guesthouse in Bukchon Hanok Village, walkable to all of the top galleries like Kukje, Arario, and Hakgojae." —Kim Hyun Jeung, curator at Nam June Paik Art Center
---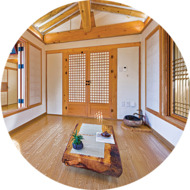 $ Jingwansa Temple ($178; 82-2-388-7999) "Stay at a Buddhist temple and experience the life of a monk. This one is by the mountains of Seoul's Bukhansan National Park." —Keith Kim, founder of seoulistic.com
---
8. Hot Cha Cha Cha!
"To experience a real night out in South Korea, one must have the stamina of a horse," says John Park, the lead pub-crawl guide for Korea Food Tours. Festivities typically kick off around 5 p.m. and rage on until 6 a.m. Seoulites call each stage of the night a cha, and drinking games and frequent toasts are part of the ritual. Here, Park's cha-by-cha guide to the ultimate night out.
1 cha: Coffee
"To wake up the people who just got off work and need a quick pick-me-up. There are five coffee shops per block, from small ones to Starbucks."
2 cha: Light Meal
"Usually Korean barbecue or pancakes, called jeon. This is accompanied by soju, beer, or makgeolli (traditional Korean rice liquor) and get-to-know-you drinking games like 3-6-9." Go here: "New York Makgeolli in Hapjeong (21, Yanghwa-ro 6-gil394-20 Seogyo-dong) has one of the city's best selections of craft and traditional Korean wine. Try the pine-nut makgeolli and seafood jeon."
3 cha: Drinking Games
"With a full belly, it's time to start the real heavy drinking. In this round, people spend money on cocktails, bottle service, and try out the new 'It' drinks. Over the past few years, craft beer has become a nationwide fad." Go here: "Thursday Party Draft House in HongdaeHongdae (19-12, Wausan-ro 21-gil364-3, Seogyo-dong) is popular with young Koreans who want to experience an American-style bar. Cheap drinks, a small dance floor, a place for hookups."
4 cha: Dance Club
"Most of the clubs are in Hongdae, Itaewon, and Gangnam; they have become very Western, with pole dancers, flair bartenders, and celebrity DJs. This was nonexistent a decade ago, since clubs were seen as dirty and cheap." Go here: "The newest clubs in Seoul tend to cater to Koreans. It's illegal, but some of the more exclusive clubs don't let foreigners in. That's why I recommend Mike's Cabin Hongdae (94-13, Eoulmadang-ro), the friendliest club in Seoul."
5 cha: Karaoke
"There are karaoke bars on every block, and by 3 or 4 a.m., there isn't a noraebang that isn't filled with drunk people singing way out of tune to the newest K-pop songs. Most people are so inebriated, the beers they order sit untouched."
6 cha: Breakfast
"After karaoke, most everyone is ready to head home, but most buses and subways don't start until 5:30 a.m. So people get breakfast: mostly noodles or dumplings — something cheap and simple to get ahead of the hangover." Go here: "Kimbap Cheonguk, Kimbap Nara a popular 24-hour Korean fast-food chain, has locations all over the city."
9. Talking Points
A cheat sheet to three issues dogging Seoul. Pollution: South Korea ranks 173rd in the world for air quality, according to Yale University's latest 180-country Environmental Performance Index. Vehicle emissions and coal-fired power plants and vehicle emissions are the main culprits, so on his fifth day in office, new liberal president Moon Jae-in announced plans to temporarily shut down ten coal-powered plants. Other green growth initiatives will take far longer to implement, but in the meantime, one South Korean town plans to sell you cans of "fresh mountain air" at local drugstores for 15,000 won ($13). Jobs: Chaebol are family-run empires (think Samsung, Hyundai, and LG) that form the cornerstone of the Korean economy; in 2015, the revenue from the five largest chaebol accounted for 58 percent of the GDP. But to get even a low-level position at one, college graduates cram 15 hours a day to take job-entrance exams. It's a low-opportunity system, and South Korea's rate of youth unemployment is upward of 10 percent. In response, Moon Jae-in has pledged to create thousands of new public-sector jobs, subsidize the living expenses of job-hunting youth, and reform the chaebol. LGBT Rights: LGBT rights are under siege in Korea, especially in its military. Right-wing Christian groups argue that sex among gay soldiers spreads AIDS; this spring, due to investigations conducted through social media and dating sites, at least 32 soldiers face "disgraceful conduct" charges, punishable by up to two years in prison. Amnesty International has called upon the military to end its "witch hunt," but Moon Jae-in disappointed activists when he condemned homosexuality in a televised campaign debate.
10. Visiting the Olympics Site
To observe the ski jump from up high.
Tours of the Olympic venues are, of course, closed during the Games themselves, but they've been open to visitors for months now — as opposed to past years, the lead-up to these Games has not been filled with news reports of unfinished Olympic Villages (Rio, Sochi); the athlete housing and venues seem remarkably ready to go. Tours will likely reopen after the Games in some form. (Check the Visit Korea tourism site for updates, but past Olympic grounds have become, for example, parks in London, where you can rent an apartment in the former athlete village, and Seoul itself.) Pyeongchang is about a two-hour bus ride from Seoul — sometimes three if there's bad traffic — and depending on what tourism agency you use, your bus might stop at landmarks along the way like the Woljeongsa Temple in the mountains near the Olympic site. Keep in mind that Pyeongchang is aggressively cold in winter, with biting wind that means you'll need a face mask and a super-warm coat.